STELLING MINNIS POST OFFICE
Return to home page Return to Index and Contents
OPENING HOURS: Monday, Wednesday and Thursday 9.00am -5.30pm (closed lunch 1-2). 
Post is collected from the Post Box opposite Stelling Minnis Stores daily, except Sundays.
We are situated in the rear of Stelling Minnis Stores, and we guarantee you a warm and cheerful welcome.
As well as providing the usual postal and pension services, your local Post Office can also offer:
PERSONAL BANKING:
DID YOU KNOW YOU CAN WITHDRAW MONEY AT YOUR LOCAL POST OFFICE?
The Post Office can provide banking facilities
IF YOU BANK WITH ONE OF THE FOLLOWING, YOU CAN WITHDRAW MONIES AT YOUR LOCAL POST OFFICE!
SANTANDER
BANK OF IRELAND
BARCLAYS
CLYDESDALE
CO-OP
COUTTS
FIRST DIRECT
HALIFAX
HSB
LLOYDS
NATIONWIDE
NATWEST
DANSKE
ROYAL BANK OF SCOTLAND
SMILE
TSB ULSTER BANK
VIRGIN MONEY
MOBILE PHONES:
e-Top ups – all networks
UK and International Phonecards
UTILITIES:
You can pay most of your household bills through us.
To help spread the cost, TV, Seeboard and MVL stamps are available PLUS a £5-00 PO Savings Stamp that can be used for any payment or purchase.
TRAVEL:
Comprehensive and Competitive Travel Insurance
Foreign Currency and Travellers Cheques – 2 days notice
E 111 – the European Health Form
CAR INSURANCE:
A new product – pick up a leaflet for a no commitment quote – it may save you money!!
PERSONNAL LOANS;
Need a new car / home improvement / holiday?
All the above and much more are available at your local Post Office.
Ample parking, so no more travelling and expensive car parking fees, AND you'll be served by friendly helpful staff who know your name!!
SUMMARY OF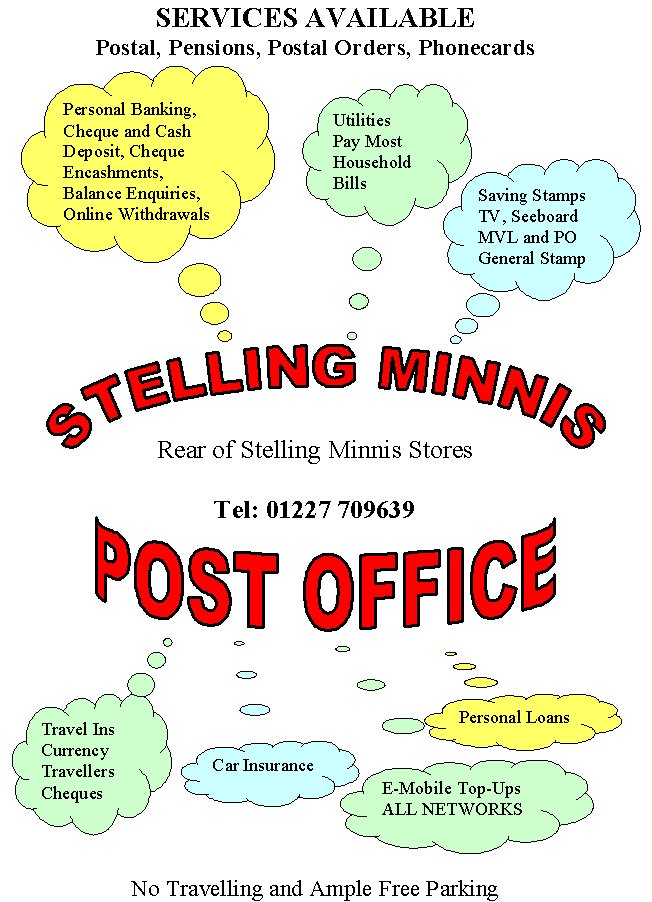 The content of this page is not the direct responsibility of Stelling Minnis Parish Council.
Page designed and produced for The Stelling Minnis Post Office by Nick Smith - 19th September 2003
Updated 8 June 2015
Web site url and hosting facilities provided by Simon Wood of Terabyte Computing Ltd