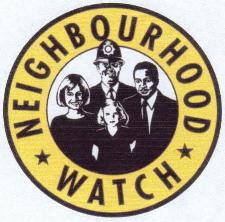 STELLING MINNIS WEB SITE
NEIGHBOURHOOD WATCH
Return to home page Return to Index and Contents Halloween Poster Useful Contacts Monthly articles from Hardres and Stelling News
To Contact the Police:
Dial 999 for emergency or if a crime is being committed
Dial 101 for all other contact
Refer to Hardres - Stelling News for Telephone contact details for the Neighbourhood Watch
Co-ordinator for Upper Hardres and Stelling Minnis is Robbie Gambril
e-mail: nhw.sm.uh@gmail.com
Report a Fraud to Action Fraud
It has been reported to me that 3 vans have been seen touring the area of Stelling Minnis. Please be vigilant and if you spot something suspicious try and get a licence plate number. (Published 29 August 2017)
Go to:_
Monthly articles from Hardres and Stelling News
Householders and the use of force against intruders (3 Feb 05).
HANDY VAN SCHEME FOR THE ELDERLY
ROGUE TRADERS AND RANSOME WARE
Neighbourhood Watch Co-ordinator

To a large extent, the role of co-ordinator is to pass on info FROM the police, et al, to all those who live in the area and wish to receive it. The messages are typically information about forthcoming policing campaigns, or for instance, the extra precautions folks should take during the forthcoming strike by the Kent firemen (KFRS).

The virtual immediacy of communication via email makes it the ideal way for me to disseminate the information I receive to the wider community. To enable this, I would be grateful for everyone who wants to receive such info to send a suitable email address to nhw.sm.uh@gmail.com. I would be further grateful if you could pass on this information to anyone you know who "doesn't do email". This is particularly important for info that could impact upon them personally.

As the name of the organisation implies, the main flow of information is from the community i.e. you, the eyes and ears on the ground, feeding your local knowledge TO the police. If you do see or hear of:
• anyone behaving in a suspicious manner, or
• anything that strikes you as suspicious,

please 'phone 101 (or 999 if it is a dangerous or menacing incident) and report the incident to the police as soon as it is possible. Do NOT 'phone the NHW co-ordinator. That would just elongate the line of communication, thereby wasting time during which the "villain can make his getaway". Moreover, the police prefer, where possible, for the report to come direct from whoever witnessed the incident and thereby reduce the chances of the story becoming mangled. Many of you will be familiar with the military command "Send reinforcements, we're going to advance" which, by the time the message has reached HQ, has become corrupted to "Send three and four pence, we're going to a dance".

---
Joint Public Statement from the Crown Prosecution Service and the Association of Chief Police Officers
What is the purpose of this statement?
It is a rare and frightening prospect to be confronted by an intruder in your own home. The Crown Prosecution Service (CPS) and Chief Constables are responding to public concern over the support offered by the law and confusion about householders defending themselves. We want a criminal justice system that reaches fair decisions, has the confidence of law-abiding citizens and encourages them actively to support the police and prosecutors in the fight against crime.
Wherever possible you should call the police. The following summarises the position when you are faced with an intruder in your home, and provides a brief overview of how the police and CPS will deal with any such events.
Does the law protect me? What is "reasonable force"?
Anyone can use reasonable force to protect themselves or others, or to carry out an arrest or to prevent crime. You are not expected to make fine judgements over the level of force you use in the heat of the moment. So long as you only do what you honestly and instinctively believe is necessary in the heat of the moment, that would be the strongest evidence of you acting lawfully and in self defence. This is still the case if you use something to hand as a weapon.
As a general rule, the more extreme the circumstances and the fear felt, the more force you can lawfully use in self-defence.
Do I have to wait to be attacked?
No, not if you are in your own home and in fear for yourself or others. In those circumstances the law does not require you to wait to be attacked before using defensive force yourself.
What if the intruder dies?
If you have acted in reasonable self-defence, as described above, and the intruder dies you will still have acted lawfully. Indeed, there are several such cases where the householder has not been prosecuted. However, if, for example:
having knocked someone unconscious, you then decided to further hurt or kill them to punish them; or

you knew of an intended intruder and set a trap to hurt or to kill them rather than involve the police,
you would be acting with very excessive and gratuitous force and could be prosecuted.
What if I chase them as they run off?
This situation is different as you are no longer acting in self-defence and so the same degree of force may not be reasonable. However, you are still allowed to use reasonable force to recover your property and make a citizen?s arrest. You should consider your own safety and, for example, whether the police have been called. A rugby tackle or a single blow would probably be reasonable. Acting out of malice and revenge with the intent of inflicting punishment through injury or death would not.
Will you believe the intruder rather than me?
The police weigh all the facts when investigating an incident. This includes the fact that the intruder caused the situation to arise in the first place. We hope that everyone understands that the police have a duty to investigate incidents involving a death or injury. Things are not always as they seem. On occasions people pretend a burglary has taken place to cover up other crimes such as a fight between drug dealers.
How would the police and CPS handle the investigation and treat me?
In considering these cases Chief Constables and the Director of Public Prosecutions (Head of the CPS) are determined that they must be investigated and reviewed as swiftly and as sympathetically as possible. In some cases, for instance where the facts are very clear, or where less serious injuries are involved, the investigation will be concluded very quickly, without any need for arrest. In more complicated cases, such as where a death or serious injury occurs, more detailed enquiries will be necessary. The police may need to conduct a forensic examination and/or obtain your account of events.
To ensure such cases are dealt with as swiftly and sympathetically as possible, the police and CPS will take special measures namely:
An experienced investigator will oversee the case; and

If it goes as far as CPS considering the evidence, the case will be prioritised to ensure a senior lawyer makes a quick decision.
It is a fact that very few householders have ever been prosecuted for actions resulting from the use of force against intruders.
(added 3 February 2005)
---
HANDY VAN SCHEME FOR THE ELDERLY
First, this is about vulnerable residents in our area, usually elderly and living on their own or in isolated places. There is a "handy van" scheme working in our area who will come and fit chains or spy holes free of charge. You must get the consent of the person concerned and then phone our NHW liaison officer, Sally Coleman on 01304 218151 with their name address and telephone number. They will then be put into the system and soon be safe and sound.
---
A scheme set up to stop "off road drivers.
This is a list of points you must be aware of.
One is not allowed to drive a vehicle off road unless one has written permission from the land owner.

When driving on footpaths which are public byways, all driving documents are required.

In respect of other footpaths and bridleways no unauthorised motor vehicles are allowed.

Police now have the power to seize vehicles committing this nuisance.

Any damage to crops etc caused by off road driving or riding is criminal damage.

One can be held liable under Civil Law for any injury or damage caused.

In respect of sites which have been declared as of Special Scientific Interest (SSI) a fine of up to £20,000 can be imposed.

Those whose parents live in Local Authority or housing association property are putting their tenancy at risk, should they allow their children to take part in this activity.
Any information regarding this activity should be given in strictest confidence to PC Ian Foster on 01304 2188130.

ROGUE TRADERS AND RANSOME WARE

NEIGHBOURHOOD WATCH

14 June 2017

This is a reminder about Rogue traders and some useful websites for you to visit.

If you're a victim of fraud or know someone who is please visit Action Fraud online or call 0300 123 2040.

If you feel afraid or threatened by a doorstep caller, phone 999. For non-urgent calls, phone Kent Police on 101.

Sign up for the latest Public Protection alerts, you can unsubscribe at any time http://bit.ly/1NESgZN

Take a look at this: https://www.youtube.com/watch?v=U-iW0TOvins

Following the ransomware cyber attack on Friday 12 May which affected the NHS and is believed to have affected other organisations globally, the City of London Police's National Fraud Intelligence Bureau has issued an alert urging both individuals and businesses to follow protection advice immediately and in the coming days.

Ransomware is a form of malicious software (Malware) that enables cyber criminals to remotely lock down files on your computer or mobile device. Criminals will use ransomware to extort money from you (a ransom), before they restore access to your files. There are many ways that ransomware can infect your device, whether it be a link to a malicious website in an unsolicited email, or through a security vulnerability in a piece of software you use.

Key Protect advice for individuals:

<![if !supportLists]> · <![endif]>Install system and application updates on all devices as soon as they become available.

<![if !supportLists]> · <![endif]>Install anti-virus software on all devices and keep it updated.

<![if !supportLists]> · <![endif]>Create regular backups of your important files to a device (such as an external hard drive or memory stick) that isn't left connected to your computer as any malware infection could spread to that too.

<![if !supportLists]> · <![endif]>Only install apps from official app stores, such as Google's Play Store, or Apple's App Store as they offer better levels of protection than some 3rd party stores.

<![if !supportLists]> · <![endif]>

<![if !supportLists]><![endif]> Phishing/smishing

Fraudsters may exploit this high profile incident and use it as part of phishing/smishing campaigns. We urge people to be cautious if they receive any unsolicited communications from the NHS. The protect advice for that is the following:

<![if !supportLists]> · <![endif]>An email address can be spoofed. Don't open attachments or click on the links within any unsolicited emails you receive, and never respond to emails that ask for your personal or financial details.

<![if !supportLists]> · <![endif]>The sender's name and number in a text message can be spoofed, so even if the message appears to be from an organisation you know of, you should still exercise caution, particularly if the texts are asking you to click on a link or call a number.

<![if !supportLists]> · <![endif]>Don't disclose your personal or financial details during a cold call, and remember that the police and banks will never ring you and ask you to verify your PIN, withdraw your cash, or transfer your money to another "safe" account.

If you have been a victim of fraud or cyber crime, please report it to Action Fraud at http://www.actionfraud.police.uk/

Halloween Poster

Downloadable and printable "no trick or treat" Halloween Poster - Click Here

NHW Articles from Hardres and Stelling News


Latest article first - will be removed when 12 months old.

June 2018 June e-news NHW network Link to rural crime survey Link to Crime Calculator

April 2018 March/April e-news NHW network

Trading Standrards notices etc - will be removed when 6 months old

Notices to be added

The content of this page is not the direct responsibility of Stelling Minnis Parish Council.

Page designed and produced for Stelling Minnis Neighbourhood Watch by Nick Smith - 19 June 2002

Updated 26 August 2018

Web site url and hosting facilities kindly donated by Simon Wood of Terabyte Computing Ltd